COLD HEAT NEWS » Philantrophy » THE 3RD G.O.D AWARDS-THE THIRD TIME IS THE CHARM!!! PRINCESS MARIA AMOR REVS UP FOR THE G.O.D AWARDS -UN BUILDING, AUGUST 2015.
 Princess Maria Amor's personality  IS juxtaposed by purpose and  co-exists, multiplicity-style, the pros and the cons fighting for supremacy, amidst globe-trotting,  her life a virtual humanitarian vortex-like collage  of local and international news, designed to save lives and promote and empower humanitarians worldwide: Princess Amor's  G.O.D AWARDS III is  an uplifting global awards ceremony, showcasing and honoring humanitarians and artists worldwide who have shown an unflinching mission to better mankind—August 5th-7th, UN Bldg, NY, NY, 2015.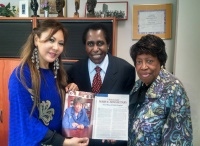 (July 13, 2015, The National Council of Women's  President Mary E. Singletary  appointed Princess Maria Amor, CEO of We Care for Humanity,   as its Vice President for International Affairs and Goodwill Ambassador)
The third time will seem like  a charm, complete with a book signing of her first book, musical performances, fine dining and more and like its predecessors, each honoree is even more incredible than the ones that preceded them—- no bad choices or bad guys—— and it will be held at The United Nations in New York City on August 5-7th, 2015. Who is this woman, Princess, Dr, BEAUTY QUEEN , CEO,  this Maria Amor and how did she get here–all the way to The United Nations Building, in The Big Apple?
 Bringing life saving equipment and sustenance to Africa, and being honored in New York City for helping African nations achieve sustainability with "The Distinguished Award of Environmental Service", by The Governor of Koudougou, Mr. Burkina Faso, at "The 1st U.S Annual Women and the Environment's Charitable Luncheon" Event last February 22, 2015 at The Shrine World Music Venue, was an experience which, in retrospect, has not moved the Princess closer to her current date with the UN in August, 2015; like a recurring comet, she was destined to arrive there again anyway, at the predetermined time, but it has probably inched Amor closer to a job that may, in my opinion, have chosen her, politics.
What has been lacking is our realization that we are watching the metamorphosis of a rather gifted individual,  from the glitter of Hollywood, her natural habitat, and ordained with multiple "hats". The Princess, the former Miss. Asia, wielded poverty, and indigence, by not only creating a nonprofit, We Care for Humanity, and facilitating a plethora of sociopolitical entertainment extravaganzas, a mighty blow; hosting fundraisers, gala global important and celebrity laden events, Reality tv shows——— "The Search for Mr. And Ms. Perfect Creature"—–  beauty pageants, and politically themed events, such as in 2012, "Honoring The Fallen' at Los Angeles's Convention Center, and  "The 2nd World's Independence Awards" at The Beverly Hilton Hotel,  memorializing  fallen policemen, alongside their families celebrating democracies resiliency against terrorism;  Feeding Program and Goods Distribution Program at the Abatex Community in Montalban, Province of Rizal;5-11-13, Maria Amor's Music Festival In The Valley  Waged War Against Homelessness And Hunger; and    We Care For Humanity  "Rockin the Typhoon Haiyan",Dec 13th at Corbin Bowl-in CA,  "for the Philippine"s victims with a concert– Corbin Bowl: The beautiful Princess's projects are arguably too prolific to name completely here at this time, but the ether, the stratospheric quality in the air is that she has been seized, caught in the snare of, in my opinion, politics.
Princess Maria Amor, her Global Officials of Distinction Awards, are now in its third outing and people are still raving about the two previous shows, which also were housed at The United Nations in New York City.Many Hollywood notables were present at the 1st G.OD AWARDS, and won awards as well, including Erick Roberts, and the creator of The Love Boat, "Jeraldine Sanders", and award winning singer-songwriter and actress,  Marneen Lynne Fields.
ACTOR/HUMANITARIAN MAN OF THE YEAR
 Eric Roberts
Actor
Jeraldine Sanders-Creator of "The Love Boat".
(Poet Maureen Brindle along with Princess Maria Amor wrote  a book of poetry entitled, "We Care For Humanity Poetry".
Surprisingly,  not by happenstance, Princess Maria Amor,  LA Sherrif Lee Baca, , and Varun Gandhi  presented an event at  LA's Convention Center on April 28, 2012,with  The Sheriff's Indo-American Council, to celebrate India's New Year, award gifted people, such as the press, and memorialize fallen law enforcement officers and their families–, George H. W. Bush the 41st President of America had been invited. Gandhi was being groomed to become the world's youngest Prime Minister.  He is the great-grand-son of India's first Prime Minister, Jawaharlal Nehru. Varun Gandhi was born in Delhi on 13 March 1980 to Sanjay Gandhi and Maneka Gandhi. He is the grandson of of the former Prime Minister of India, Indira Priyadarshini Gandhi, the first woman to be Prime Minister in India, who was  assassinated by two of her Sikh bodyguards on October 31, 1984; ——The themes have always been internationally spiked.
Interestingly enough, in my opinion, Amor's journey has increasingly, like a call to arms, as if the political arena has chosen her  like  a predestined force gifted with an ideological calling of higher consciousness, magnetically pulled, with an omnipotent all caring heart—-there in the nick of time to help devastated regions of the world.
This calling has, like a lightning rod, transformed her and she has risen to world prominence, and has been bestowed Princess status in some nations abroad. Among other titles which have been bestowed upon her are as  follows:  Other titles of prominence consist of  CEO and Founder of WE CARE FOR HUMANITY; Bae Insalilay (Traveling Princess), Bae Inhayag (Princess of Light), Bae Kabugason (Morning Star) at Tribal Government of the Philippines, HRH Chieftain Secretary of State at The Royal Kingdoms Federation of the South – FOS and Director, International Dignitary Affairs at The World Peace Committee;Past: Maria Amor International Inc;
Finally, sealing the deal, at least in my opinion, that her future lies in politics is that  on July 13, 2015, The National Council of Women's  President Mary E. Singletary  appointed Amor  as its Vice President for International Affairs and Goodwill Ambassador. This union of both Amor's We Care for Humanity and Singletary's NCW will enable Amor to help and empower women, and disadvantaged children and people much more fully. Also it will enable The Princess to help Singletary's humanitarian issues as both nonprofits have become, in  a sense intertwined.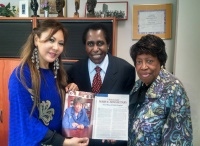 (July 13, 2015, The National Council of Women's  President Mary E. Singletary  appointed Princess Maria Amor, CEO of We Care for Humanity,   as its Vice President for International Affairs and Goodwill Ambassador)
In fact, Amor's heart, whose drum line marches to the beat of  a different drummer has led her, not only to the Philippines, to save a devastated—-situated on a dump site called Abatex— on numerous occasions, and jaunts to various sites lacking, thus bringing  adequate medical supplies and life saving equipment, in places like Russia, Malaysia, India, Indonesia,  terrorist infested  Nigeria, Africa and the earthquake decimated exotic land of Nepal, on life saving missions, but also, it's been  proven that she is quite competent at entering hostile waters and accomplishing, not because of intense beauty, but because of a big brain, kind heart, and doing very great things!
Her calling has aligned and purposed The Princess congruently,  to  assist in the enhancement of international relations such as the alleviation of human trafficking, and she was very instrumental in introducing poor nations to a new medical breakthrough called, The IridoLab———-"It is a breakthrough",, beamed Amor, "a  first and only one of its kind, fully automated and noninvasive, iris-based biometric health evaluation system designed for individuals who want to proactively monitor their health and the health of their families. It is not only safe, fast, economical, and effective but it also incorporates the latest scientific advances in biometric health evaluation and produces an evaluation of all major anatomical systems and organs and of an individual's general constitution.If helps poor nations get healthy and sustain health."
Maria Amor Torres, who studied Fashion Design & Merchandising at Fashion Careers International, and in the Past at a Philippine School of Business Administration at Roosevelt College Rodriguez, was born in Rizal, Philippines, where she studied business, and dance and eventually became an internationally recognized  humanitarian phenomena known as The Traveling Princess. Maria Amor Torres.  created a nonprofit and is the CEO and Founder of it–WE CARE FOR HUMANITY. She  is a humanitarian, coming from humble beginnings from Manila, Philippines, She came to Los Angels, CA as a beauty queen winning Miss Asia and has gone on to help destitute areas in the world.
The 2nd G.O.D AWARDS was even better than the first one. This was when the event took flight and landed in its new home, nestled within the hustle and bustle of the most incredible nation in the world, New York City, in The United Nations . Again many famous and incredible people arrived. Here are a few OF THE PRESENTERS: Actor Danny Glover-"Color Purple" ,"Lethal Weapon 1-4″, and Congresswoman Diane Watson.
2nd G.O.D AWARD HONOREES–SOME OF THEM:
(July 13, 2015, The National Council of Women's  President Mary E. Singletary  appointed Princess Maria Amor, CEO of We Care for Humanity,   as its Vice President for International Affairs and Goodwill Ambassador)
Most recently, Princess Asha of Nepal was  expecting a special visitor in Nepal, on June 25, 2015, as The Traveling Princess Maria Amor settled down in her neighborhood to officially nominate her for a G.O.D AWARD to be presented at The United Nations in New York-August , 2015. In addition, "The Traveling Princess", Amor's nickname, as she is a prolific traveling philanthropist, she also  delivered life saving equipment from her non-profit, We Care for Humanitys' affiliate division, called The GHIH to Nepal . Through donations and guidance this visit will both promote self sufficiency, and deliver help to provide special and also basic health safety equipment valued at over $1,000,000 to this Earthquake devastated nation. Princess Asha Raje Gaekwad, is from the royal family Gaekwad, which is of extraordinarily splendid art stock, as the family members are well known purveyors of fine art. Consequently, Princess Maria Torres Amor is honoring Princess Asha for her work which is designed to bring the best art to Nepal, and later to India; Showcasing the best work that Nepal artists have to the world.
Consequently, the mad swagger with which Princess Maria Amor wields along her axis around the hapless, devastated indigents and business and peace aficionados  , worldwide,  is of a rare breed ilk. It is the sort of a magic world  through which visionaries, and world leaders traverse. But the thing, most tangible which lures people to her is her heart. she gives a damn. She is intelligent and such is the  heart and the care which powers it that one tends to overlook her beauty. Her modus operandi  is ABOUT helping people. As her G.O.D AWARDS approach, I am reflecting on a conversation she and I had in which she explained that one's value is not always registered by personal wealth and dollars and cents but by one's indifference to witness need and do  nothing——helping people is a legal tender heard all the way from earth and cashable from here to Heaven. "I want to help people", she explained and by golly that is what she has been doing. Whether her vehicle will remain solely philanthropic or shift towards the political arena is unsure, but the smart money is that empathy will be gasoline of her vehicle. And empathy is the reason that THE G.O.LD AWARDS  is being held; to honor those who dare to care and are not ashamed to show it.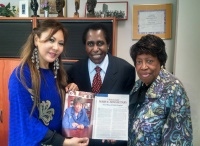 Filed under: Philantrophy