COLD HEAT NEWS » Entertainment, Featured Article, People » Bastard Son of A Thousand Fathers Is A Real Mutha for Ya-Up for 5 major Awards-2016 Haitian Movie Awards on November 6th ,The John Hancock Hall in Boston, MA.
 The recent viewing, on October 2, 2016,  of Bastard Son of A Thousand Fathers,  directed by Lanre Sarumi, at The Downtown Independent,  filmed like a spider's web,  with all snared within a  vortex of  lies, swindles , racial "it's the man against us ism", made me think of The late soul singer Johnny Guitar Watson's , "That's a Real Mutha For Ya". This movie is  a  was a most twisted deviant tale, including hints at gay gangster love, race relations street cred style, all leveraged by greed, hypocrisy. This  highly energetic, well directed cast made this the closest one can get to real danger, and come back physically unscathed—this is really a glimpse of gangland style, drug- dealer -killer- for -rilla -style- lifestyles -of -the rich -and- dangerous!
In fact   this film, made by Chicago's Telly Awards  winning production hit making powerhouse, 4 FEATURES FILM,  shears the head off of the suspension of disbelief directive, as it delivers in striking venom -like fashion.  In addition,  it s producer writer explained, "  This film's namesake, "Bastard Sons of a Thousand fathers" is the twisted brainchild, the name of a drug created by a doctor, turned sociopath-path. The intensity and strength of this drug causes such a stir in the hood, that brothers and friends turn on each other, as they stock pile and disseminate it.
 Interestingly enough, , this film is pumping more " than a one hit wonder" through the veins of mass media, as a crime story it is and has the usual suspects within it, much like Boys in The Hood, and Breaking Bad——intense violence, killing and street lingo unchained to the zenith—making this film, in my opinion, a dead ringer to win in five different categories on November 6, 2016, in Boston, MA at  The 4th Annual Motion Picture Alliance of Haiti Film Awards.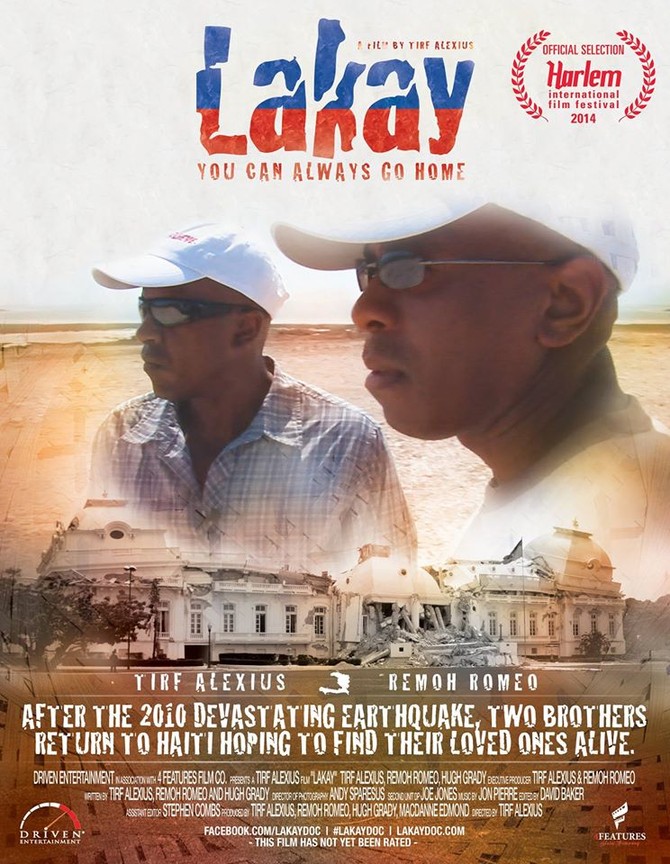 Consequently,  according to producer-actor, Remoh Romeo " It is truly awesome to have had our film nominated and embraced by The Motion Picture Alliance of Haiti, an entity that champions and holds up Haitian films. And to have had nominations for Best Director, Best Director of Photography, Best movie , Best Screen Play and a nod as Best actor,  reaffirms the noise that is coming from the street —–We feel pretty confident of our chances. We tried to truthfully  show the living conditions of people, and the consequences of living as such, within those environments."
 The powerful dynamic duo brotherhood  of Remoh Romeo(Hogtown, Lakay), and Tirf Alexius(Chicago, PD, Lakay), along with directors, producer, fellow actors and the  films writer, Lanre Sarumi (Banana Leaves, Critical Nexus), Chad Meyer, Wesley St. Louis, Iris Kohl(Chicago Med) , and Melissa Flores   are doing a great service, not only for action lovers but also for the country of Haiti itself : There have been so many  calamities spewing forth  or hammering  into that natural phenomena problematic area, with either killer Hurricanes or Lethal Earthquakes;  This brother led coalition will be  at the 2016 Haitian  Movie Awards on November 6th ,The John Hancock Hall in Boston, MA., beaming with pride and bestowing their Haitian spirit before the world——–showing that although deeply saddened and traumatized by the recent acts of God via nature in Haiti, it can not keep a good Haitian down.
Similarly, in the brothers 2014 movie, Lakay,  An official 2014 Harlem International Film Festival Selection,  they are shown in Haiti , four years after the earthquake devastation that ravaged that area. The film depicts the tortuous plights of many but the overriding theme was that joy and life and love of life can and will still resurface, showing mankind's' propensity to endure hardships  via a faith that things WILL get better and a  beautiful spirit!
 Finally,  one can see that the furor over this picture is well warranted. In fact, there were celebrities at the Bastard première October 6, 2016 such as Vida Ghaffari(Mindy Project), Natasha Blasick,  filmmaker, Thomas Churchill, Ray Laroche, Alexandra Keller, Romana Simon, Lilian Lev, just to name a few and I am sure that they did not come for the Q & A hordoeves; The film is , with a hint at tongue in cheek crazy humor, exciting if nothing  else. I could not get enough of it and I am positive that you will enjoy it. See you at The Haitian version of the Emmys, in Boston, November 6, 2016——– 2016 Haitian  Movie Awards ,The John Hancock Hall, Boston, MA.  Proceeds, according to Joe Williamson Management's newswire,  will be donated dually  at a rate of one dollar for every ticket sold  to  i2BELIEVE, a 501(c)(3) nonprofit in Haiti,  and a dollar  via the filmmakers,  for every digital sale of Bastard Son of A Thousand Fathers—a street drug which btw means quite a few drugs including heroine, and  crack,  and sweets like chocolate and hibiscus—' A one shot wonder!"
Filed under: Entertainment, Featured Article, People