COLD HEAT NEWS » Business, Culture & Arts, Entertainment, Featured Article, People » VIDA GHAFFARI, "THE PERSIAN LINDA BLAIR", AND A LEGION OF ACTORS, STRIKE BACK AS A HORRIFIC FORCE, VIA TERROR FROM WITHIN— "HOLY TERROR"; A MUST SEE!
VIDA GHAFFARI, donned the nickname,  "Persian Linda Blair",  due to the travails of her character, (Mindy Project) actress, voice over artist , award winning blogger and star of the " So Very Vida Blog", 
 in conjunction with  a  very versatile and talented legion of actors and writers, producers———————consisting of  
Kristine DeBell, Lisa London, Mel Novak, 
Kelly Lynn Reiter
 ,J

esse Hlubik

 ,

Nicole Olson

, Scott Butler,(Weiner Dog Internationals)   ———————-stood out in this
  MUST-SEE-SCARE-THE-HELL-OUT-OF-YOU-TERROR-BLAST,ENTITLED,"HOLY TERROR" , on March 28, 2017, NoHo Laemmele , 5240 Lankershim Blvd, North Hollywood, CA 91601.
Directed/written by  Rich Mallery,(SOCIOPATHIA)  this  (producer)Gregory Hatanaka Film,(Samurai Cop 2, Cine Ridge Productions),  resonates within ones'  scary bone, yanking free one's fright "taste" buds,  in a style similar to  not only, William Peter Blatty's  Monster epic hit, "The Exorcist", of the 70's , but also,  surprisingly and in some cases, ongoing seemingly endless national protests manifesting the tenacity of Muhammad Ali's classic fight  "The Thrilla in Manilla", or like an even more ferocious present day battle—-The Presidential  2017's "hit it and can't quit It, non respect for the final verdict of the US election process, Hillary Clinton The Democrats vs  President Donald Trump's Republican Presidential machine——– The Democrats, with Russian skullduggery in mind, juxtaposed by rumors of wars, illegal surveillance accusations from The Republicans; h.mm.m is demonology amidst here as well? Meanwhile back at the terror, The beat goes on and on and on and this ferociously damn terrifying demon wasn't as they say, "no joke"; It took a lickin and just kept on ticking!
This film, in addition, makes one ponder the old axiom that "one man's garbage is another's' priceless art, as the battle of good versus evil pits a demon, well versed in the identity of its "attacker", Mel Novak, a film icon, recently the recipient of a  few lifetime, and living legend awards–having worked in over 300 films, including action, and martial arts films with such icons as the late Bruce Lee, "Game of Death" and legendary entertainment mogul Dan Curtis of "Mannix" and "Burnt Offerings" fame—–in a rematch: their earlier duel resulted in the maiming and spiritually terrifying torture of Ghaffari's character, and by now the demon recognizes  its evil plight; evidenced by its tenacity on holding onto its new victim, reveling in the actual fight itself, feeling that it has every right to kill,  seemingly legitimized , by Satan to create pandemonium, as if it is in the right. Doesn't it realize that , as Novak repeatedly shouts, "The Power of Christ compels you"? Goodness gracious, like a pit bull on super glue steroids, this terror from within, a murderous driven denizen from hell, refuses to relinquish its hold on anyone or step back. The frightening conclusion of this battle is too scary to write. One must see it to believe it!
Currently this film, in the vernacular of today's street smart demographic,  is making a "lot of noise", and  also It's climbing up the charts to #11 on Amazon Prime UK . This shouldn't come as a surprise, as the cast, in addition to legendary thespian Mel Novak, and award winning actress Vida Ghaffari, is also buttressed by veteran actress,  Kristine DeBell. Her   trajectory into stardom traverses a ride with  the likes of actors like Bill Murray,  from Saturday Night Live,  Richard Gere's, and Jackie Chan's first film, "Meatballs", "Blood Brothers", and "The Big Brawl", respectively. In addition, DeBell also has shone her star on multiple television pilots, and the very famous , award winning, "Young and The Restless soap opera.
In conclusion, this is a scream fest,   in which Ghaffari sets it off with a deadly foundation that a demon used to  play cat and mouse with an unfortunate household, and its family members were like sitting ducks for the blasting, no wiser of the evil that had descended upon them. In my opinion, the sister, portrayed by actress, Kelley Lynne Rieter, (The Z Virus) of the second possessed victim, and the victim herself, Nicole Olson,   were very central to this movie in that their relationship as sisters permeated the movie. in fact, the demon used it to gain entry into their dysfunctional drug abuse riddled household. Even more, the enmity between actor, Jesse Hlubik, Rieter's  husband, with Olson, put everyone into a situation in which, not only was a sword hanging over their heads during Butler's  exorcism, but in fact, a target was placed between the eyes of their faith! Did this family deserve the final verdict levied upon them, a curse dropped like it was hot…….. on top of their faith? What Did Rieter do ? What will befall her as this terrifying tale has spun into a worse,  just got too damn friggin worser, oh my damn scenario!!? You'll have to see it to believe it. Finally, as , the late award winning funk/rock-pop singer, George Michael said so righteously in his late 80's smash hit, "Ya gotta have faith. I gotta have faith". See for yourself how much faith was in tha house!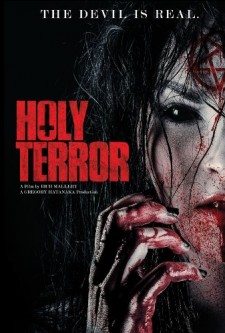 Kudos on Joseph Kelbie Williamson's newly appointed role as Publicity manager for Cinema Epoch–Publicist for Vida Ghaffari and Mel Novak.
Filed under: Business, Culture & Arts, Entertainment, Featured Article, People